AKC Champion "CH Registered Name" call name "Call Name"

Sho Mai Sou AKC and Nippo Champion Shiba Inu

            An Accountable, Heritage and Preservation Breeder of Purposefully Bred Purebred Dogs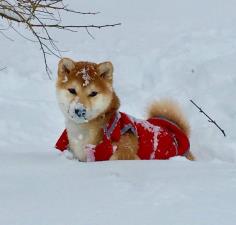 Michi is a co-owned dam that resides with her family in WV. She was bred and born at Sho Mai Sou from a Star-Lord X Kimi breedting. She has produced 3 beautiful girls in a Guccifer X Michi breeding. A repeat breeding planned for February 2021.

Michi lives an exciting life where boar, bear, coyotes and other wildlife wander through their yard. She lives with 2 Heideterriers that are bred to hunt wild boar.