Christmas Litter of 4 Born 12/25/2020 (Kuzya X Bella Bravo Litter)
by Rex Gaylord on 12/27/20
Bella Bravo Litter The Kuzya X Bella Bravo litter was born in the afternoon of 12/25/2020. There were 4 puppies (2 male 2 female). 2 sesames, a black & tan, and a sashige. We are so happy that we met and exceed the goals of this mating (take our breeding program forward with sesame lines) since we have at least 1 male and 1 female sesame to choose from. We have given them temporary Christmas themed names after a bunch of solicited name ideas.
Girl #1 Sesame Joy (purple collar)
Girl #2 Black & Tan Noel (yellow collar)
Boy #3 Sesame Leo (orange collar)
Boy #4 Sashige Bailey (blue collar)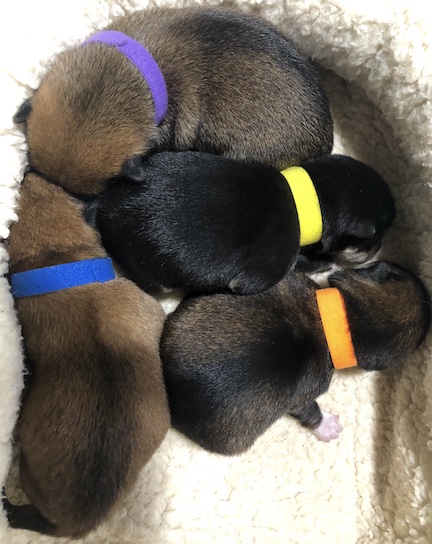 The public Facebook page (do not need facebook account to view) for this litter is:
https://www.facebook.com/media/set/?vanity=ShoMaiSou&set=a.3864635526903406
Pics posted to Facebook page daily there though 12 weeks.
We measure progress in public online spreadsheet where you can follow.
They are live on 2 cameras. Cam15 and Cam 17 (better on desktop or laptop computer, but mobile works if you click though the adds).
Track our daily status of each litter - Online Spreadsheet.
Sho Mai Sou Dog Visits
We welcome and enjoy visits to meet our dogs. Do to COVID-19 we have transitioned most of our dogs to our climate-controlled shop. We only accept visits from people on our "Short List" who have completed their background checks. We are looking forward to lifting the restriction post COVID.
Sho Mai Sou Approved Homes We get a lot of applications each day. More than we can process, so we ask that you only apply for a puppy if you meet the following criteria (questions, email, call or message us):
House with fenced yard (or apartment/townhouse/condo with fenced yard).
Citizen of the United States or Permanent Resident status.
18 yoa or older.
You are you comfortable with a $2500 - $5000 price range.
We prefer active homes that are involved in AKC/UKC conformation, dog sports such as CAT/Fast CAT, Agility, Obedience, Scent Dog etc. We especially like to see our dogs go into homes that have children who plan or are currently participating in 4H and/or AKC Juniors with their dog(s) and/or have previous experience with Shiba Inu.
Ayumi Charlie Litter Riku X Ayumi Charlie was planned, but the frozen sperm did not arrive. A Guccifer X Ayumi Charlie litter breeding was completed on November 28th. Her due date is January 29, 2021. We will see red and/or black/tan (no cream) puppies from this breeding.
Guccifer X Ayumi Charlie Litter Genetic Forecast
Michi Bravo Litter Guccifer X Michi Bravo Litter breeding was completed in August but was unsuccessful. We will attempt this breeding again in February 2021. This is a co-owned litter that will be born in West Virginia. This is a repeat breeding, the Alpha litter was 3 red girls. This mating can produce red or cream (not sesame or black/tan). Both the sire and dam carry the recessive cream gene, so cream puppies is possible. The album on the Guccifer X Michi Alpha Litter is here.